Mopar® Jeep Tire Service

in Duluth, MN
Few vehicle parts experience as much wear as tires. Schedule your next Jeep service appointment with Duluth Dodge to make sure your Jeep is performing its best when rubber meets road. We offer plenty of Jeep service coupons as well, including tire coupons, that help drivers save big on routine maintenance and replacements.
If you don't want to find yourself stranded on the side of the road or walking out to flat tires in the morning, scheduling tire service is a must. Tires become worn without proper maintenance or replacement which leads to punctures and on-road blowouts.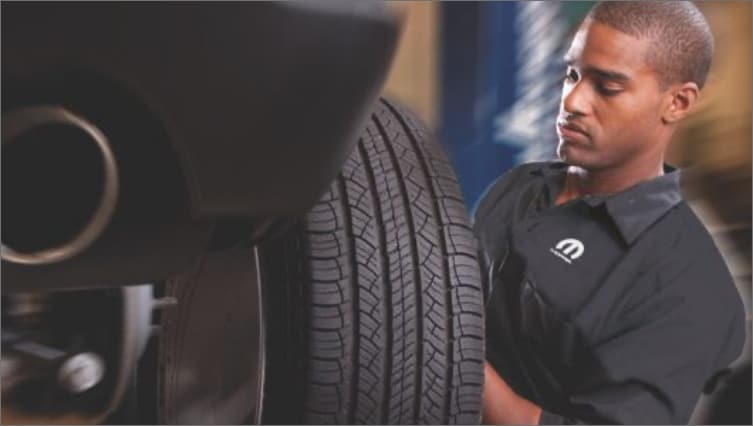 Why Schedule Jeep Tire Service With Duluth Dodge?
Your tires are an essential component of your vehicle, so it's essential that they stay in prime condition. Worn tires affect not only your vehicle's traction and fuel economy, but also compromise your safety on the road. It's important that your tires are properly checked, maintained, and replaced when necessary.
Schedule Service
Jeep Tire Service FAQs and Tips
Still have questions about Jeep tire service? Read our Frequently-Asked-Questions below:
How do I know if I need new tires?
You can quickly check your tires to gauge whether or not they're in good condition. Take a closer look and make sure their treads are intact and that their sidewalls are not cracked. You'll also want to be sure your tires are firm and properly inflated. Tires that have deflated are the first sign of a puncture.
What is the ideal tire pressure level for my tires?
Generally, the ideal tire pressure for most passenger vehicles is between 32 and 35 PSI when the tires are cold. But bear in mind that each vehicle manufacturer will have specific information for each vehicle's ideal tire pressure. This information is usually found on the inside driver's door jam. If this isn't the case, consult your vehicle's owner's manual.
Can I easily see when my tire pressure is low?
Tire pressure can be tough to estimate at a glance. We suggest drivers use an accurate tire gauge every month to get a good reading on their vehicle's tire pressure. Ideally, this will be done while the tires are cold and the vehicle has not been driven yet on the day of measurement.

Schedule Jeep Tire Service at Duluth Dodge Today
For the best Jeep tire service in Duluth, schedule service right here at Duluth Dodge. Remember to browse our wide range of Jeep service coupons before setting up your appointment to save big on routine service and more.
Schedule Service