Mopar® Jeep
Oil Change

in Duluth, MN
Schedule your next Jeep oil change with the professionals here at Duluth Dodge. We feature a regularly-rotating selection of Jeep service coupons, including oil change coupons. Enjoy expert workmanship while still saving today.
Having your Jeep's oil changed regularly prevents dirt and debris from building up, and it keeps your engine running cooler by lubricating its parts. Unchanged oil can easily lead to a damaged engine and lowered fuel economy, so don't delay on scheduling service when it's needed.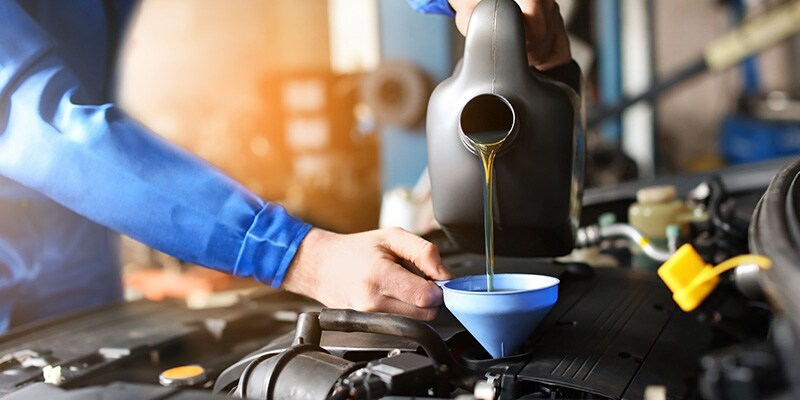 Why Schedule Your Jeep Oil Change With Duluth Dodge?
Your Jeep's engine should always remain supplied with fresh oil. Not changing your oil means your engine parts won't stay lubricated, which leads to damage. Regular oil changes also keep unwanted sludge and build-up from accumulating, meaning your Jeep's engine will run efficiently the way it's meant to. An efficient engine helps ensure you're getting the best mileage possible on a tank of fuel.
Schedule Service
Jeep Oil Change FAQs and Tips
Need to know more about the importance of Jeep oil changes? Read our FAQ section to learn more:
How do I know when my Jeep needs its oil changed?
Common clues that it's time for an oil change are a burning smell in the cabin or a "check engine" light clicking on. Also, if you start hearing your engine making unfamiliar noises like knocking or grinding while driving, this can mean your engine parts aren't properly lubricated and that your Jeep desperately needs an oil change. Ignoring these noises can quickly lead to permanent engine damage.
How often should I get my Jeep's oil changed?
The general rule for most vehicles used to be every 3,000 miles or six months. However, many modern vehicles can now safely stretch that to 7,500 miles. Your vehicle's need for an oil change will vary depending on driving habits, the quality of oil, and how old your vehicle is. When it comes to your Jeep, refer to your vehicle owner's manual or reach out to an authorized Jeep service center to get a better idea of when your particular vehicle might need to come in for a pit stop.
Should I have my oil filter replaced when I change my oil?
Yes, every time. An old oil filter will probably be filled with unwanted contaminants from your last tank of oil which can seep into your fresh oil if the filter isn't replaced. This makes switching out your oil filter a necessity with every oil change. Our expert auto service technicians here at Duluth Dodge perform this task with every oil change so you leave knowing your engine oil system has been properly maintained.
Schedule Your Jeep Service Appointment at Duluth Dodge
For top-notch Jeep service in Duluth, MN, have your vehicle serviced by the experts here at the Duluth Dodge Mopar service center — don't forget to take a look at our many Jeep service coupons before scheduling your appointment. Feel free to reach out to us today at (218) 514-4758 with any questions.
Schedule Service