Mopar® Jeep
Battery Service

in Duluth, MN
Your Jeep is built with ruggedness and durability in mind, but that doesn't mean it won't need regular maintenance like battery service check-ups and replacements. Schedule your Jeep battery service here at Duluth Dodge for expert workmanship and great Jeep service coupons.
Your Jeep's battery is one of its most important components. Without a functioning battery your Jeep won't start and that stops the adventure before it begins. Battery issues like leaks can also damage other parts of your vehicle. Making battery service appointments will help you prevent these issues and solve any already existing problems.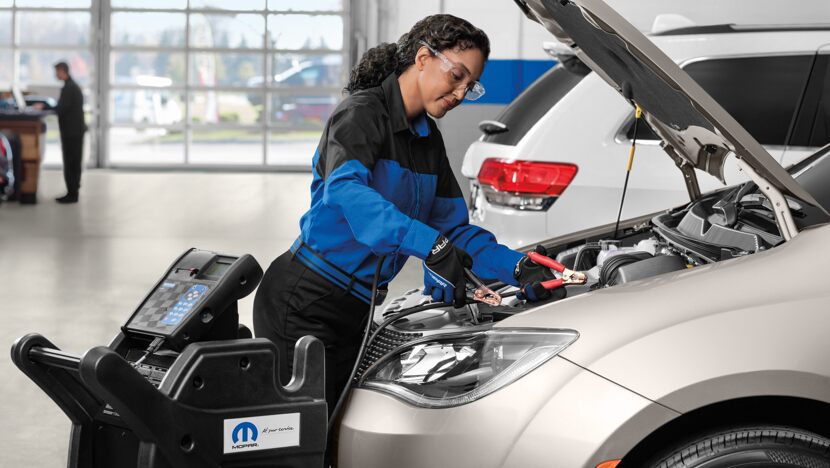 Why Visit Duluth Dodge For Your Jeep Battery Service?
While a nonfunctioning battery prevents your Jeep from getting you out on the road, there are other reasons to keep your battery regularly serviced. Those undetected battery leaks we mentioned can lead to catastrophic damage to your vehicle's engine bay and electrical systems if left unchecked and untreated. Thankfully, regular battery inspections, service, and replacement when needed can prevent major damage from becoming a factor. Investing in regular Jeep battery service now saves a lot of money and headache later.
Schedule Service
Jeep Battery Service FAQs and Tips
Want to know more about Jeep battery service? Take a look below at our answers to a few Frequently-Asked-Questions:
How can I tell when my vehicle needs battery service?
The clearest sign of your vehicle needing battery service is if it struggles to start when you engage the ignition. If you can't get your headlights to turn on at all, or can't hear the ignition even starting to crank, your battery is probably completely dead. Consistently needing to jump the battery or other abnormal electrical behavior in your vehicle also indicates a need for battery service.
How often does a car battery need replacing?
Generally, a vehicle's battery only needs a full replacement once every four or five years, but this can vary depending on your driving habits. If you notice symptoms of possible battery issues, you should have your vehicle's battery inspected and then serviced if the technicians determine it's needed.
How can I tell if my car battery is leaking?
A vehicle battery leak can be detected in several ways. Many drivers notice a rotten smell coming from their vehicle's battery. Two other clear signs of a leaky battery are its casing being unusually swollen or warped and wetness on the battery's surface.
Schedule Jeep Battery Service at Duluth Dodge
When it comes to keeping your Jeep running its best, the service team at Duluth Dodge are the trusted experts. Schedule your Jeep battery service here in Duluth today, and be sure to browse our wide array of Jeep service coupons before coming by to make sure you save those routine maintenance needs. Please reach out to us at 218-241-4473 with any questions.
Schedule Service